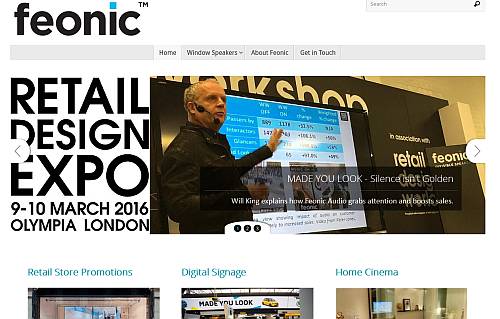 Feonic WordPress Blog
Quick and inexpensive web solution to complement a corporate website. Using Wordpress to build both a site and a blog in one. Great for Search Engine Optimisation (SEO) and easy to learn.
Tags:- WordPress,Blog,CSS,Training,eMail Setup,MailChimp,SEO
Adding a Blog to an Established Website
Feonic sell Invisible Speaker solutions to Consumers and Business to Business.
Problem: Flexible, Extendible Content to Complement a Formal Corporate Website
Feonic have a wide variety of Customers. It was proving difficult to reach these with the main website. So a Blog seemed the obvious answer. This to add Case Studies, hints and tips etc.
Solutions: Hosted WordPress using Customers Domain (NOT company.wordpress.com)
Key to a successful business is being found on the web. A Main website Plus a Blog helps with the goal of great SEO.
Main Tasks include:
Selection of a useful Theme with setup and styling suitable for the client.
Note the use of a proper domain (www.feonic.com/blog not feonic.wordpress.com), this to ensure links accrue to feonic.com not wordpress.com - a great tip to be Google Friendly.
Training in the use of Wordpress so the client can update content - the important part.
Selection of useful Plugins for Spam Protection; SEO, MailChimp integration etc
MailChimp integration. The company send Newsletters via MailChimp, a Form has been added which integrates with MailChimp to allow visitors to Sign Up and also to tell Feonic what type of Newsletters they would prefer.
Outcome: Case Studies showing Customers Innovative use of the Products added daily
Potential Feonic Customers now have multiple avenues to learn more about why they should buy. Visitors are Up and visits are longer.