Mapping Services
Development of Web Pages with specialism in mapping. Add Google Maps, Bing Maps and Ordnance Survey mapping embedded in your web page.
GIS Analysis and Development - e.g. QGIS, Ordnance Survey OpenSpace, MapServer, PostGIS Spatial Databases, GoogleMaps - VirtualEarth API, OpenLayers API etc.
Is your location hard to find? Consider a custom built Virtual Tour. Your customers can actually see the landmarks that help identify that tricky hidden turning etc. (See Explore Kinneil below).
Most of my mapping clients prefer to keep their development a secret. So I'm unable to point you to many of my projects. But have a look at my solution for Old Aerial Photos to get an idea of the work that I do. This was for the web map product supplier BlueSky International.
Featured Product - Woodland Explorer
Virtual Visits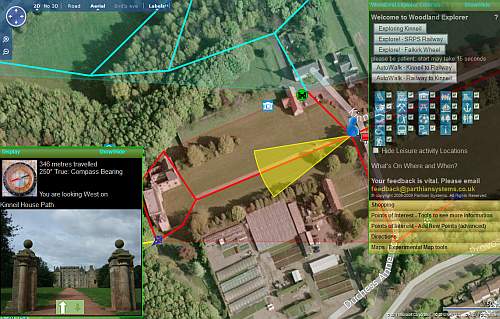 Woodland Explorer is a prototype system built to demonstrate a range of web mapping features. It allows the user to interact with a map of a local community.
The aim is to encourage the user to explore their local environment in a virtual sense by using a linked network of photographs a bit like Google Streetview. Additionally, Shops and Leisure facilities are mapped in a traditional 2d sense.









Tourism and Leisure
Woodland Explorer is a technology that can be applied equally well to road networks. The current example connects Kinneil Estate with the Bo'ness and Kinneil Railway.
Near the start of the Tour it is possible to turn left out of the woodland and onto the roads. The nearby bus stops are highlighted and then the user can Tour onwards to the Railway with stops for the Foreshore walks and the Mining Memorial.
With just a few clicks the user is familiar with the major turning points on the journey.
People navigate by landmarks - memorising 'take the third turning on the left, 2nd on the right...' etc is not as effective as actually seeing landmarks.
User Created Mapping and Event Mapping
It is possible for registered users to draw lines(routes), shapes, circles (zones) and points all with selected icons, detailed comments and dates. These are uploaded and are instantly shareable.
For example: share ideas on walking routes; create exclusion zones for safety or areas which indicate the extent of Mountain Biking activity; add comments of where to see interesting plants/birds/animals etc. Members of multiple community groups could indicate the areas covered by Litter Picks with details on the amount of rubbish collected and when the event took place.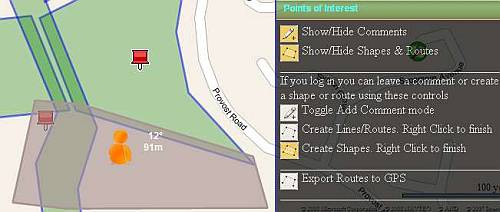 Global Positioning System and Progress Monitoring
Routes can be Exported to a GPS to provide a Route Planning capability. With this technique a walk organiser could plan a walk and then allow everyone else to view this route on their computer prior to the event and if they have a GPS upload the data with a minimum of fuss.
Cycling or Walking Groups
Cycling or Walking groups can communicate their intended route for a given day. People could see when and where the route might pass near their location and so arrange to meet up. Deviations could be planned on the site prior to the event and then communicated to all. A scout around the map could result in Hotspots being identified as good places to visit or stop.
Happy Mapping
Volunteer Archaeology Map is a prototype system built to demonstrate a range of web mapping features. As part of ongoing development of Fortingall Roots Map Project
Links
I'm on the Management Committee of the Friends of Kinneil charity. Set up to protect the interests and promote Kinneil Estate. So here's a plug: Kinneil Estate